Archive: April 2012
Saturday, April 28th, 2012 |
2 comments
Here is a video transcript of Ed Helms' Funny or Die live chat with fans.
Did Ed answer any of your questions?
(Warning: NSFW for profanity and adult content)
Tipster: Limey
Saturday, April 28th, 2012 |
Comments Off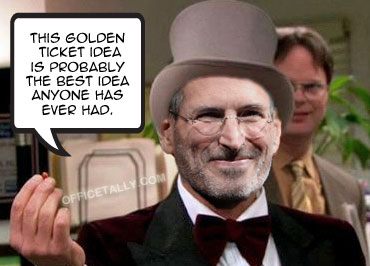 Just like Michael Scott did in The Office Season 5 episode, Golden Ticket, Steve Jobs had a golden ticket idea to promote the launch of the iMac:
Steve's idea was to do a Willy Wonka with it. Just as Wonka did in the movie, Steve wanted to put a golden certificate representing the millionth iMac inside the box of one iMac, and publicize that fact. Whoever opened the lucky iMac box would be refunded the purchase price and be flown to Cupertino, where he or she (and, presumably, the accompanying family) would be taken on a tour of the Apple campus.

Steve had already instructed his internal creative group to design a prototype golden certificate, which he shared with us. But the killer was that Steve wanted to go all out on this. He wanted to meet the lucky winner in full Willy Wonka garb. Yes, complete with top hat and tails.
This excerpt is from the book Insanely Simple: The Obsession That Drives Apple's Success by Ken Segall.
Source: MacRumors
Tipster: Mike
Thursday, April 26th, 2012 |
100 comments

Writer: Owen Ellickson, Director: David Rogers
Summary (NBC): Andy makes a splash at a local fundraiser — unemployed Andy crashes a fundraiser for the Senator and winds up adopting twelve disabled dogs. Dwight discovers that winning an auction means losing money, and Darryl teaches Nellie how to eat a taco. Guest stars: Jack Coleman, Catherine Tate.
Monday, April 23rd, 2012 |
3 comments
Here's The Office's Ed Helms and Angela Kinsey in The Bluegrass Brainwash Conspiracy, from Funny or Die.
Sunday, April 22nd, 2012 |
38 comments
UPDATE: Originally posted on November 19, 2009, I'm re-posting it for Earth Day. :)
All you need to know about Recyclops, Dwight Schrute's green alter ego on The Office.
Saturday, April 21st, 2012 |
4 comments
Here are photos from The Office episode, Free Family Portrait Studio, airing May 10, 2012.
Saturday, April 21st, 2012 |
2 comments
Here are photos from The Office episode, Fundraiser, airing April 26, 2012.
Friday, April 20th, 2012 |
4 comments
One of the greatest pleasures of watching The Office: Kelly and Ryan.