Archive: OfficeTally Exclusives
Saturday, June 1st, 2013 |
108 comments
I was honored and thrilled to play a small role in the last episode of The Office, Finale.
Here are my notes about this surreal and once-in-a-lifetime experience!
For the full listing of my 2013 set visit content, go here.
Thursday, May 16th, 2013 |
42 comments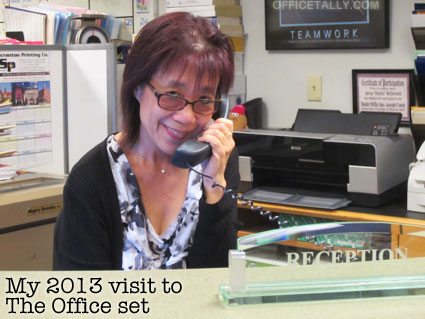 I visited The Office set the week of March 11, 2013, while they filmed the series finale episode, Finale.
Here are links to all my reports:
Wednesday, May 15th, 2013 |
33 comments
Who played the adorable baby Phillip?
Is it "Beesly" or "Beesley"?
And what's the heartfelt real story behind Jim's card to Pam?
These questions answered and much, much more, in OfficeTally's final Q&A (*sniff*) with the awesome director and editor of A.A.R.M., David Rogers.
David not only answers your questions but he goes super in-depth with lots of behind-the-scenes details!
Best. Q&A. Ever. Thank you, Dave!
Wednesday, May 1st, 2013 |
18 comments
Here are a few more photos from my March 2013 set visit!
For the full listing of my 2013 set visit content, go here.
Monday, February 4th, 2013 |
52 comments

I don't usually make a big deal out of OfficeTally's birthday, but with this being the farewell season of The Office, I'm feeling super sentimental.
On this occasion, I want to share with y'all the very first fan letter I wrote to The Office. Back in October 2005!
This was to B.J. Novak, about one of my all-time favorite episodes, The Fire,
which B.J. wrote.
Friday, June 15th, 2012 |
42 comments
Here are photos of The Office set I took on January 19, 2012 (I was able to roam freely around the bullpen — they were filming Last Day In Florida in a different building that day) and March 6, 2012 (filming the Season 8 finale, Free Family Portrait Studio).
As I requested in an earlier post, I asked you guys if you had any photo requests, so I tried to snap as many of those as I could; thanks for all the great ideas!
Friday, November 4th, 2011 |
3 comments
(From tanster: thank you to Kim for sending this report from this year's Halloween costume contest on The Office!)
The Time has come…the souls have risen!
"The Fourth Annual "Ghost of" Michael Scott Dunder Mifflin Scranton Office Fun for the Zombies Burial of the Cast and Crew Halloween Costume Contest for the Doldrums cure!"
Thursday, May 19th, 2011 |
14 comments
In this final Q&A of the season, Rainn Wilson and Justin Spitzer, lead actor and writer of the episode 'Dwight K. Schrute, (Acting) Manager' answer your questions about piranha casting, Megadesk 2.0, the Dwight/Kevin massage scene, and much more.
A big thank you to Justin and Rainn!
(Also, there might be a surprise cameo in there. You just never know.)
And now, without further ado, here is the Q&A…