Archive: Andy Buckley
Thursday, May 9th, 2013 |
2 comments
Megan Masters from TV Line asks Rainn Wilson, Jenna Fischer, Melora Hardin, Angela Kinsey, Andy Buckley, and David Koechner about their favorite Office moments.
Thursday, May 31st, 2012 |
9 comments
Here's a mashup of our favorite Dunder Mifflin CFO and "Suck It" entrepreneur,
David Wallace.
I grinned all the way through it. That's what she said.
Sunday, May 16th, 2010 |
2 comments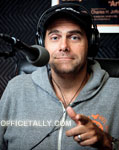 Would you like a chance to talk to The Office's Andy Buckley?
Maybe ask him what's going on with our favorite CFO David Wallace? Or if the Suck It is at Target yet? :)
He's hanging out at Hungover Radio, a Sunday morning Internet radio show hosted by his buddy Marcus Edwardes. "Great music, interviews, games, general silliness and insipidity are the order of the day." (NSFW for explicit content)
HR streams live this morning at 10am PST, and Andy will be in the sidekick chair!
Info: Hungover Radio | Call in: 424-230-7701
Thursday, March 4th, 2010 |
208 comments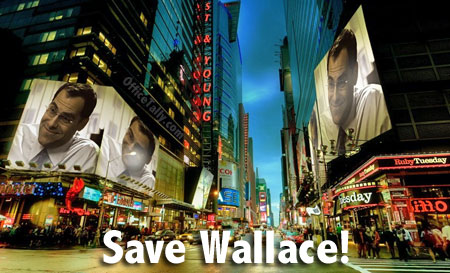 Created with Photo505
UPDATE: congratulations to jessica, priskiller, and cara — in a poll conducted February 23-28, your icons were chosen as fan favorites:



You'll each receive The Office 2010 Wall Calendar. Watch your inbox for an email from me!
Thanks to everybody for participating! But remember that even though the contest is over, the mission to SAVE WALLACE continues!
Contest rules on the next page.
Sunday, February 7th, 2010 |
18 comments
David Wallace (Andy Buckley) and his son Teddy (Owen Daniels, who is executive producer Greg Daniels' son) rock out in The Office Season 6 episode, Sabre.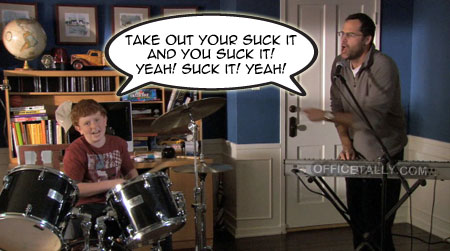 Suck It Lyrics
Well it's a mess, what a mess
What you gonna do?
You're gonna take out your Suck It and you suck it!
Monday, January 25th, 2010 |
7 comments
The Wall Street Journal interviewed The Office's Andy Buckley ("David Wallace").
Here is an excerpt:
Wealth-management adviser Andy Buckley may be about to lose his job — his acting job on NBC's hit TV show "The Office," that is.

Every morning, 43 year-old Buckley goes to work at a leading investment bank and wealth-management advisory firm in Los Angeles. But while some of his co-workers leave midday to play a round of golf, Buckley's schedule allows him to occasionally show up on the set of "The Office" to play Dunder Mifflin's Chief Financial Officer, David Wallace.
The last sentence of the interview is spoilerishly intriguing …
Link: "The Office" CFO David Wallace Is Real-Life Wealth Management Adviser
Tuesday, October 13th, 2009 |
17 comments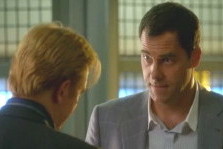 Is that David Wallace talking to Horatio Caine?
Actually, Andy Buckley appeared on CSI: Miami last night in an episode called "In Plane Sight."
And doesn't act very CFO-like at all.
Watch it online: CSI: Miami (expired)
Thursday, June 4th, 2009 |
7 comments
The Office's Andy Buckley ('David Wallace') visits Scranton this weekend.
He'll be attending a "Raising the Roof!" happy hour on Friday, kicking off The Office Fan Tours on Saturday, and maybe even hanging out at the Pocono Raceway with Dale Earnhardt, Jr. (he's apparently quite the Office fan) on Sunday.
Quite the busy itinerary!
The Office Fan Tours are scheduled every Saturday throughout the summer and showcase landmarks made famous by 'The Office':
Four-hour tour that begins at the Mall at Steamtown and ends at Poor Richards Pub. Includes full lunch at Cooper's w/ beet salad, crab bisque and more. Local brews and wine included with 21+ ticket, however keep in mind this is a clean, fun family tour. Tour includes recognizable places and inspirations such as Farley's, The Bog, Paper Magic, Cooper's, Penn Paper building, Alfredo's, and many other Scranton sights.
Cost: $35 adults, $25 children | Buy tickets here
Links: Rooftop happy hour | The Office Fan Tours | Andy Buckley interview NEW
P.S. Yes, OfficeTally's Q&A with Andy is coming later this summer. Stay tuned!