Archive: Creed Bratton
Wednesday, May 15th, 2013 |
2 comments
Ed Helms, Craig Robinson, Ellie Kemper, Creed Bratton, Clark Duke, and Jake Lacy bid farewell to The Office.
Tipster: Limey
Saturday, May 11th, 2013 |
4 comments
A tribute video for Zach Sobiech, diagnosed with osteosarcoma, a rare form of bone cancer. Given only months to live, Zach wrote the song "Clouds" to say goodbye.
With The Office's Jenna Fischer, Angela Kinsey, Rainn Wilson, Creed Bratton, and Ed Helms.
So sweet!
Tuesday, April 16th, 2013 |
1 comment
The Office's Creed Bratton (and former member of The Grass Roots) has a new album coming out called "Tell Me About It" — an "audio-biography" of LSD, unemployment lines, and third acts.
"Tell Me About It" releases in three acts starting April 16.
Get a free download of Creed's song 'Faded Spats' at creedbratton.com!
Links: CreedBratton.com | Creed Bratton on iTunes
Sunday, March 17th, 2013 |
35 comments
Here are tweets about the final week of shooting The Office.
The final day of shooting was Saturday, March 16, 2013.
Thank you all for your lovely tweets! Means a lot!

— Angela Kinsey (@AngelaKinsey) March 17, 2013
It was the greatest honor to be a part of this show!Thanks for getting behind it.Yup… That's what she said.

— John Krasinski (@johnkrasinski) March 17, 2013
I can't thank you all enough for the tweets today. I will read them all over the next few days. Thank you all for your support of the show!

— Kate Flannery (@KateFlannery) March 17, 2013
You are the reason we made it on air…You're the reason we stayed on this long…And you're the reason we all had the time of our lives!

— John Krasinski (@johnkrasinski) March 17, 2013
There is truly nothing any of us can say that could be enough.But to each and every fan of our show we simply say… We love you.

— John Krasinski (@johnkrasinski) March 17, 2013
That's a wrap.

— Jenna Fischer (@jennafischer) March 17, 2013
The empty set. 8:30PM 3/16/13 twitter.com/rainnwilson/st…

— RainnWilson (@rainnwilson) March 17, 2013
More on the next page.
About to shoot the final scene of the Office. twitter.com/MrCraigRobinso…

— Craig Robinson (@MrCraigRobinson) March 17, 2013
Saturday, February 16th, 2013 |
3 comments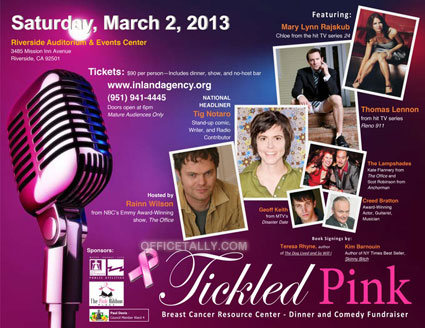 Join host Rainn Wilson, The Lampshades (Kate Flannery from The Office and Scot Robinson from Anchorman), actor and musician Creed Bratton, Tig Notaro, Mary Lynn Rajskub (Chloe from 24), Geoff Keith (MTV's Disaster Date)​, Thomas Lennon (Reno 911), and Kim Barnouin, author of the New York Times bestseller Skinny Bitch, for an unforgettable evening.
​​​When: Saturday, March 2nd, 6pm
​Where: Riverside Municipal Auditorium, Riverside, CA
Tickets: $90 per person (includes dinner, show & no-host bar)
Benefits: The Pink Ribbon Place, a breast cancer support and resource center
More info: Tickled Pink
Wednesday, August 8th, 2012 |
1 comment
The enigmatic Creed has been captured in a monster mashup.
Saturday, March 24th, 2012 |
3 comments
The Office's Creed Bratton plays a villain in a Staged dramatic reinterpretation of Gym Class Heroes lyrics.
Saturday, February 25th, 2012 |
Comments Off
Summary: Johnny X and his misfit gang of juvenile delinquents from outer space are sentenced to Earth where "ghastly" is the word! With highly stylized musical numbers, tons of genuinely humorous dialogue and wacky plot twists, this is the only sci-fi dark comedy musical romance you need to see this year.
Starring: Will Keenan, Creed Bratton, De Anna Joy Brooks, Reggie Bannister, Les Williams, Jed Rowen, Kate Maberly, Paul Williams, and Kevin McCarthy
Website: The Ghastly Love of Johnny X
Release Date: March 3, 2012 at the Cinequest 22 Film Festival
Behind the scenes with Creed Bratton

Trailer More »