Archive: Scranton
Tuesday, April 9th, 2013 |
75 comments


Photo credit: The Way The Cookie Crumbles
UPDATE: winners have been announced!
The task
Record a video explaining why you're The Office's Biggest Flan (er, Fan) for a chance to win a VIP package courtesy of The Office Wrap Party in Scranton! More »
Tuesday, April 2nd, 2013 |
7 comments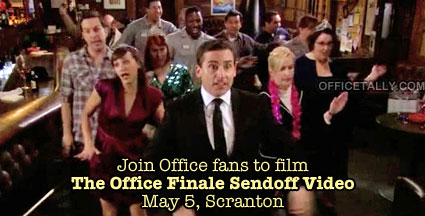 APRIL 11 UPDATE FROM ORGANIZERS: "In light of the events now happening on May 4, we have decided to cancel our tribute video originally scheduled for May 5."
In honor of The Office, TV station WBRE is organizing a lip dub extravaganza to be filmed on the streets of Scranton on Sunday, May 5.
Not only do they need Office superfans to perform in front of the camera, they would also like to feature an original send-off song! (I'm talking to you, creators of Pam Pong, The Office Tribute Song, and Ryan Started The Fire.)
Organizers tell OfficeTally "The video will be posted to YouTube during the final episode, and will likely air on both the NBC and CBS affiliates here in town at about 7:55p on the finale night. It will also be covered locally on Eyewitness News."
Sign up/more info: The Office Finale Sendoff
'Cuz there ain't no party like a Scranton party 'cuz a Scranton party don't stop!
Friday, March 15th, 2013 |
204 comments
2013 UPDATE: Want to attend The Office Fan Tour? Then please post a comment below or email the Party Planning Committee at events@timesshamrock.com to let them know. If they get enough interest, they'll consider adding tours for this year!
The Office Fan Tours take place in Scranton, PA, and showcase landmarks made famous in 'The Office,' such as The Mall at Steamtown, Cooper's, Poor Richard's, and Lake Scranton! (It's a blast; here's my trip report.)
Includes: four-hour tour, lunch at Cooper's, and drinks at Poor Richard's.
Price: $55 adults, $45 under 21 | 2012 tour information and schedule | Buy tickets
Monday, November 22nd, 2010 |
3 comments
The Office's Kate Flannery will visit Jerry's For All Seasons in Dunmore today, November 22, from 6 to 7 p.m.
Kate will also be at the Philadelphia Thanksgiving Parade.
Link: 'Office' cast member to visit area Monday
For a full list of upcoming events, see the OfficeTally Calendar.
Monday, May 24th, 2010 |
5 comments
The Office's Brian Baumgartner will attend two special events in Scranton this Memorial Day weekend:
Friday, May 28th: Library fundraiser block party

Brian attends the Swingin' On Vine block party benefiting Scranton's Albright Memorial Library.

Saturday, May 29th: The Office Fan Tour

Brian attends a four-hour tour of Scranton landmarks made famous by the show!

Link: The Office Fan Tours
Monday, December 21st, 2009 |
25 comments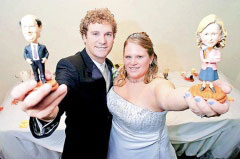 No, I'm not talking about Jim and Pam. :)
In many ways, "The Office" helped bring Kevin and Susan Stempien together. So, when time came for them to join together in holy matrimony, they decided the Scranton-based NBC sitcom should be a part of the festivities, tradition be damned.

And boy, did they make sure that every detail was just right!
Read the full story in the Scranton Times-Tribune:
Scranton couple ties knot with themed wedding & reception
And check out some of the photos that Susan sent to OfficeTally below!
(Best. Wedding favors. Ever.)
Congratulations you two! May your hearts soar forever with the eagle's nest. :)
UPDATE: vote for Kevin and Susan
Thursday, June 4th, 2009 |
7 comments
The Office's Andy Buckley ('David Wallace') visits Scranton this weekend.
He'll be attending a "Raising the Roof!" happy hour on Friday, kicking off The Office Fan Tours on Saturday, and maybe even hanging out at the Pocono Raceway with Dale Earnhardt, Jr. (he's apparently quite the Office fan) on Sunday.
Quite the busy itinerary!
The Office Fan Tours are scheduled every Saturday throughout the summer and showcase landmarks made famous by 'The Office':
Four-hour tour that begins at the Mall at Steamtown and ends at Poor Richards Pub. Includes full lunch at Cooper's w/ beet salad, crab bisque and more. Local brews and wine included with 21+ ticket, however keep in mind this is a clean, fun family tour. Tour includes recognizable places and inspirations such as Farley's, The Bog, Paper Magic, Cooper's, Penn Paper building, Alfredo's, and many other Scranton sights.
Cost: $35 adults, $25 children | Buy tickets here
Links: Rooftop happy hour | The Office Fan Tours | Andy Buckley interview NEW
P.S. Yes, OfficeTally's Q&A with Andy is coming later this summer. Stay tuned!
Thursday, June 4th, 2009 |
70 comments
This post lists information and/or speculation about the next Office Convention to be held in Scranton, PA.
Latest update, June 4, 2009: "Admission [for The Office Fan Tours] is $35 for adults and $25 for those under 21, with proceeds going toward the next 'The Office' Convention, which won't be until at least 2010." Source
For information about the 2007 convention, check out OfficeTally's convention archive and the official Office Convention site.
Previously posted items on the next page.