Archive: The Office Series Finale
Monday, May 5th, 2014 |
7 comments
The most amazing cast and staff gather for one final table read of The Office.
As Michael Scott would say, it's emotionally magnificent.
Monday, May 5th, 2014 |
Comments Off
Entertainment Weekly interviewed Executive Producer Greg Daniels about The Office series finale.
An excerpt:
What about the network? What were their feelings about the ending? Did they have any input?

Daniels: No, they were super supportive. They wanted it to be done the way we wanted to do it and helped us strategize about how to pull it off. That's all. Well actually … you know, we didn't tell them about Steve. They didn't know about Steve and the line producer was a little nervous about it, I think he was afraid he was going to lose his job. But we shot the Steve stuff and we kept it out of the dailies and didn't tell them about it. At the table reading, we gave the Steve Carell lines to Creed.
So sneaky!
Link: 'The Office' creator Greg Daniels reflects on finale: How they hid Steve Carell from NBC
Friday, September 13th, 2013 |
8 comments
Here's the last five minutes of The Office series finale.
[No longer available]
"I wish there was a way to know you're in the good old days before you've actually left them."
Thursday, May 16th, 2013 |
45 comments
Summary (NBC): Produced by NBC News, this special offers an emotional farewell to the characters of "The Office," and includes exclusive and original interviews with writers, producers and actors from the award-winning series. One-hour long, starting 8/7c.
The Office Retrospective Quotes
Greg Daniels: I was on the set for this finale, and I was looking around, and I was just struck by the fact there's no way you could assemble this type of cast again.
Jenna Fischer: I'll never have a relationship with another actor the way I do with John Krasinski.
B.J. Novak: We're pretty big in Scranton. We're like 16 Justin Biebers when we go to Scranton.
The official press release is on the next page.
Wednesday, May 15th, 2013 |
2 comments
Rainn Wilson talks about the series finale of The Office and how the cast and crew are dealing with the bittersweet situation.
[No longer available]
Actor Angela Kinsey talks about the incredible challenges her character faces heading into the series finale of The Office.
[No longer available]
Creator Greg Daniels discusses the past nine seasons of The Office and the appeal of mockumentary style television.
[No longer available]
Friday, May 10th, 2013 |
7 comments
The Office's editor/producer/director Dave Rogers sent over a bunch of photos from the Finale episode.
Here they are. Thanks, Dave!
Tuesday, May 7th, 2013 |
9 comments
Angela Kinsey shares a story about Greg Daniels from the filming of the finale.
[No longer available]
*sniff*
Tuesday, May 7th, 2013 |
247 comments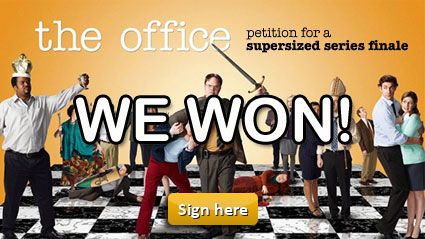 The Office ends its nine-year run this May with a one-hour series finale episode. Executive Producer Greg Daniels, however, needs more time.
May 7: TVLine reports that The Office finale is extended by 15 minutes. WE DID IT!
The retrospective airs as scheduled 8-9pm, followed by the finale 9-10:15pm.
May 2: our petition has now collected 20,000 signatures. Woo hoo!
May 1: in a press call today, Greg mentioned that he is working with NBC to get extra minutes for the finale. Keep signing, you guys!
April 28: now that NBC has announced a retrospective airs before the finale, you can think of The Office "owning" the 8-10pm slot. This means there's an excellent chance they could shorten the retrospective in order to "supersize" the finale. As Tallyhead Raybans commented, "…the Seinfeld finale ran from 8:45 to 10 following their 45-minute clip show." Hey, we'll take that extra 15 minutes! :)
March 26: Executive Producer Greg Daniels responds to the petition. More »