Archive: The Office Set Visit
Saturday, May 18th, 2013 |
18 comments
Here are a few more photos from my March 2013 set visit!
For the full listing of my 2013 set visit content, go here.
Friday, May 17th, 2013 |
15 comments
My favorite cameo from The Office finale episode, hands down, was Jennifer Celotta.
Jennifer is a long-time OfficeTally favorite, having been a producer and writer during the earlier seasons of the show.
She has kidded with us over the years that her dream was to appear as a member of the Schrute family.
She finally got her wish last night! :)
For the full listing of my 2013 set visit content, go here.
Thursday, May 16th, 2013 |
103 comments
I was honored and thrilled to play a small role in the last episode of The Office, Finale.
Here are my notes about this surreal and once-in-a-lifetime experience!
For the full listing of my 2013 set visit content, go here.
Sunday, May 12th, 2013 |
8 comments
Now that A.A.R.M. has aired and Dwight has been officially made Regional Manager, I wanted to post these pictures of Dwight's office, which I took on my last day visiting The Office set in March 2013.
For the full listing of my 2013 set visit content, go here.
Saturday, March 23rd, 2013 |
15 comments
[This is one report from my 2013 visit to The Office set. See all reports here.]
The Office series finale wrap party was held on Saturday, March 16, 2103.
Since The Office cast was still shooting the finale when the party started at 8pm, they didn't arrive to the party until around 10:30 or 11, I think. I believe every guest star that has ever appeared in an episode was invited, but because there were so many people there, I didn't get to see them all.
The Office Executive Producer Greg Daniels gave a really touching speech, which was followed by a video reel, including new bloopers.
It was wonderful connecting with cast, crew, and writers. Thanks for inviting me! :)
More »
Sunday, March 17th, 2013 |
42 comments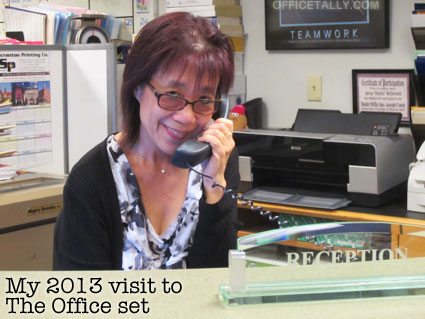 I visited The Office set the week of March 11, 2013, while they filmed the series finale episode, Finale.
Here are links to all my reports:
Friday, June 15th, 2012 |
41 comments
Here are photos of The Office set I took on January 19, 2012 (I was able to roam freely around the bullpen — they were filming Last Day In Florida in a different building that day) and March 6, 2012 (filming the Season 8 finale, Free Family Portrait Studio).
As I requested in an earlier post, I asked you guys if you had any photo requests, so I tried to snap as many of those as I could; thanks for all the great ideas!
Tuesday, March 6th, 2012 |
19 comments
I spent about 10 hours on The Office set today, watching filming of the Season 8 finale.
Yes, The Office wraps up filming this week! How time flies.
Thank you, The Office cast and staff, for letting me hang out with you today.
As always, it was a blast.