Archive: The Office Trivia
Thursday, May 9th, 2013 |
7 comments
TV Guide has a really interesting list of things you may not know about The Office:
The Office was originally developed with FX or HBO in mind.
Steve Carell almost missed out on becoming Michael Scott.
Jim and Pam might have been an interracial love story.
Dunder Mifflin branches exist all over the Northeast.
The original Office spinoff idea: A parody of PBS' An American Family.
Parks and Recreation could have been an Office spinoff.
Oscar (Oscar Nunez) wasn't supposed to be gay.
Dwight's backstory was inspired by Wilson's family, Daniels' grandparents and UPN's Amish in the City.
Fischer regularly hears from viewers who don't like stronger-willed Pam.
Had NBC ordered The Farm to series, Dwight would have left The Office in midseason.
Read more: 10 Things You Didn't Know About NBC's The Office
Thursday, March 28th, 2013 |
29 comments
Here's the ad on Oscar's screen from the last scene of The Office episode, Moving On.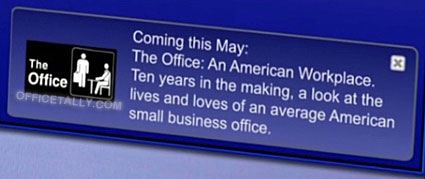 Coming this May:
The Office: An American Workplace.
Ten years in the making, a look at the lives and loves of an average American small business office.
Thursday, February 14th, 2013 |
15 comments
Kate Flannery stars in the best running gag this season, and it's time to honor it.
Ever since The Office episode, Lice, where Meredith shaved her head, she's worn a different wig every subsequent episode. I look forward to it every week!
Here's what we've seen so far. More »
Wednesday, February 13th, 2013 |
6 comments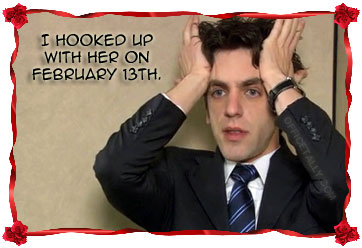 A classic line from The Office Season 2 episode, Valentine's Day.
Saturday, February 9th, 2013 |
6 comments
In this past week's episode of The Office, Couples Discount, Jim gives Pam her sketch in a frame for Valentine's Day.
Where have we seen that sketch before? More »
Saturday, February 2nd, 2013 |
12 comments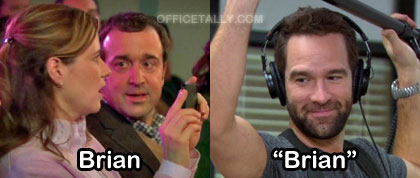 It's been awesome seeing some of the long-time Office staff in front of the camera recently, including the inspiration behind "Brian." Here's a little bit of trivia:
"Brian": the character of Brian the boom operator, introduced in the episode Customer Loyalty, is played by Chris Diamantopoulos. The character also appeared in Junior Salesman (cold open), Vandalism (the fight), and Couples Discount (lunch with Jim and Pam).
Brian: "Brian" the character is named after real-life and longtime Office sound man Brian Wittle. In Customer Loyalty, he steps in front of the camera as the annoyed parent sitting next to Pam during Cece's dance recital.
Superfan trivia: this isn't Brian Wittle's first time in front of The Office camera; he actually appears on one of the DVDs! See the next page.
Wednesday, January 23rd, 2013 |
2 comments
In The Office episode, Lice, Meredith Palmer shaves her head to avoid getting lice.
Here's how the bald effect was achieved: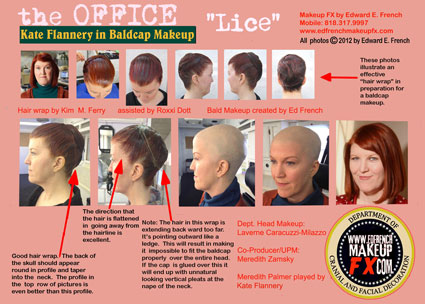 (Click the image to see it larger)
Posted with permission from Edward French. See more at http://edfrenchmakeupfx.com.
Sunday, April 8th, 2012 |
4 comments
If Andy's girlfriend looks familiar, you may have seen the actress, Eleanor Siegler,
in the Subaru "lost sunglasses" commercial: