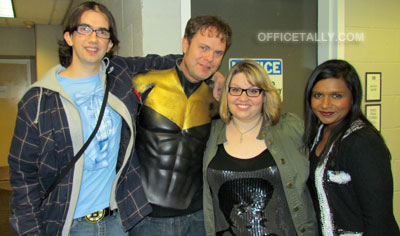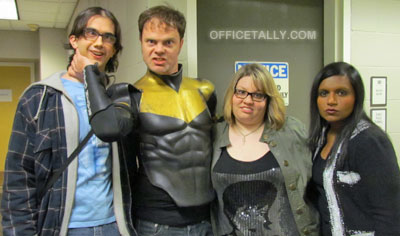 UPDATE: here are backstage photos of Sarah, the auction winner, and her husband Greg!
Sarah says:
"Greg and I arrived at the show in full VIP treatment. I was SUPER nervous to meet Rainn and Mindy (who wouldn't be?). So I asked if I could see them before the show. Rainn was in full get-up for the opening number and hugged me immediately (he truly is a nice guy!). Mindy was so nice too (she smells really pretty!). We took the standard celebrity and fan photo op, but when I asked for a silly face shot, he immediately went for Greg's jugular (there is some Dwight in him at heart).
Thanks so much to the MONA Foundation, Tanster and OfficeTally for this amazing experience!"
The original auction details are on the next page.