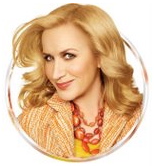 As part of its Gigi campaign starring The Office's Angela Kinsey, Clairol is giving away Nice 'n Easy ColorSeal Conditioner to ten lucky Office fans!
(If you haven't seen any of Angela's Nice 'n Easy clips, go to the Gigi page. The outtakes are the best!)
STATUS: this contest was held Nov 11-13. Here are the ten winners: Emily (4), GoldYogurtLid (49), Jackie (18), Jdubbs19 (9), Kenna (38), MeLinda (79), Pamalamadingdong (3), Stephanie (40), Victoria (66), wheresmybulldog (65). Congratulations, watch your inbox for an email from me!
Contest details below.
Answer this question
What is your favorite Angela Martin line from 'The Office'?
How to enter the giveaway
Submit your answer by adding a comment to this post.
Spelling and grammar count.
One entry per person. If you post multiple entries, you will be disqualified.
Provide a valid email address in the Email address field.
U.S. entrants only.
Rules and deadlines subject to change without notice.
Prizes
I will randomly choose ten qualified entrants to win a package of Nice 'n Easy ColorSeal Conditioner.
Deadline to submit your entry
Submit your entry by Friday, November 13, 12 noon PT.