Creed Bratton 'Bounce Back' giveaway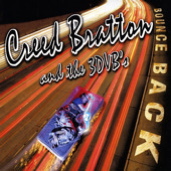 The Office's Creed Bratton has just released a new album — Bounce Back by Creed Bratton and the 3DVBs, and he is giving away three autographed copies to OfficeTally readers!
(If you missed it, here's a free download and video of the single Rubber Tree.)
You can hear samples of all 11 tracks at iTunes.
Answer this question
What is your favorite Creed Bratton line from 'The Office'?
How to enter the giveaway
Submit your answer by adding a comment to this post.
Spelling and grammar count.
One entry per person.
Provide a valid email address in the Email address field.
U.S. entrants only, please.
Rules and deadlines subject to change without notice.
Prizes
I will randomly choose three qualified entrants to win an autographed copy of Bounce Back by Creed Bratton and the 3DVBs!
Deadline to submit your entry
Submit your entry by Sunday, February 21, 11pm PT.