Here's Hanna's report and photos from the screening of 'A Little Help' at the Seattle International Film Festival on May 21 and 22, 2010.
Q&A
(I'm paraphrasing some of it since couldn't remember the exact wordings):
Q: (for Jenna & Daniel) Was it difficult to film those scenes where they had to curse and yell at each other?
A: They were both very cute and funny about this and basically said they felt bad saying such mean things to each other, especially Jenna but both have made up since then. Jenna felt extra bad because she scared Daniel lunging at him at one point. Michael Weithorn jokingly said that that was when they were NOT shooting.
Q: (for Jenna – this was my question) Where did you get the inspiration to portray the character Laura? For Pam, you once mentioned that it was because you used to be a receptionist.
A: She said that it was great question (and maintained eye contact w/ me when answering…*squee*) and got personal and honest with the answer.
She said she drew the inspiration from her first marriage and the subsequent divorce because it was not so different from her character Laura in the sense that she thought she had her life going in one direction, then it didn't and having to work through that.
In a way, it was cathartic for her (Jenna) to play the Laura role in the movie. She also added that, of course, she was less extreme (or something like that, can't remember exact word) than Laura.
Q: (for all the cast/crew) How different was it working on a set for a movie and working on a set for TV shows?
A: Jenna was funny with her answer, saying "Yeah…I got this question." She basically said that working on a regular budget movie, you only had to shoot something like 2 pages of script each day, have your own trailer and watched more TV than actually worked (everyone laughed at this part). And working on TO was also easier because the hardest part was memorizing her lines, knowing where to go at certain times and watch for certain comedic cues.
Working on "A Little Help" was different in that they had to actually shoot six pages of script per day and worked like 18 hours per day. Also, no personal trailer or TV. Lol….
Director Michael Weithorn said that the first couple of days shooting the movie, he went more a more comedic mood because that was what he was used to working on "The King of Queens" but realized that it wasn't what he wanted. Also, the fact that it was exciting shooting his first film but it was also a lot more work.
Q: (for Daniel) Were you a fan of Jenna before working with her on this movie and what was it like working with her?
A: Yes, he was a fan of Jenna because of TO and working with her on this movie was great. They got along very well and became friends working on the movie. (Jenna was very sweet toward Daniel in little ways like making sure that he had a chance to talk and had gushed about how professional Daniel was. They were very cute.)
Q: (for Michael) Where did you get the inspiration for the characters (and, if I remember correctly, the story itself) in the movie?
A: He said that he wrote the script for a while and shelved it because the timing wasn't right due to the fact that he couldn't find the right person for Laura. Interesting thing about this was he was "talked" into sending Drew Barrymore the script even though he didn't feel that she was the "Laura" that he had in mind. But he did it anyways because sometimes it was better to have his film made instead of NOT. Drew Barrymore passed on the film.
But when he saw Jenna of Office fame and thought that she would be a possible "Laura". The two met, talked and realized that Jenna's version of Laura was the same version that Weithorn had in mind and that was that.
My Jenna autograph story
I asked for her autograph and she asked for my name. She misspelled it and apologized but I didn't care because hello, Jenna was talking to me! But she insisted on writing it again and wrote this: For Hannah – That's What She Said. Hah! (This was her misspelling of my name and this way, she said the "Hah!" looks like it's on purpose. lol).
Jenna Fischer. She is just so great. And after this meeting with Jenna, I can honestly say that she makes it so easy to be a fan of hers (and of TO) because of how wonderful she is to the fans (she kept thanking people for coming out to the theater that night).
Movie Review
I really couldn't add anything else to Matthew's wonderful review (which I hope he'll post on the SIFF website) except to say that I agree with everything he mentioned. Especially the part about Jenna and Rob's amazing on-screen chemistry. I loved every scene that they were in together and one scene in particular made me held my breath (similar to my reaction when watching certain Jim/Pam scenes).
The chemistry between Jenna and Daniel was just as great. There were also a lot of hilarious moments in the movie (the whole theater laughed A LOT) in addition to the more serious ones.
I truly hope that this find a distributor because it's just a great movie. My favorite of Jenna's up-to-date.
Photos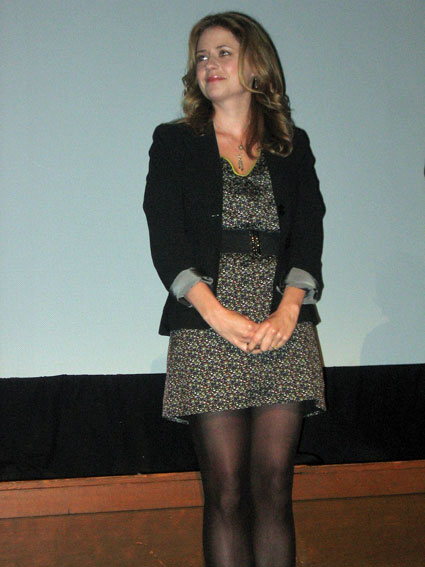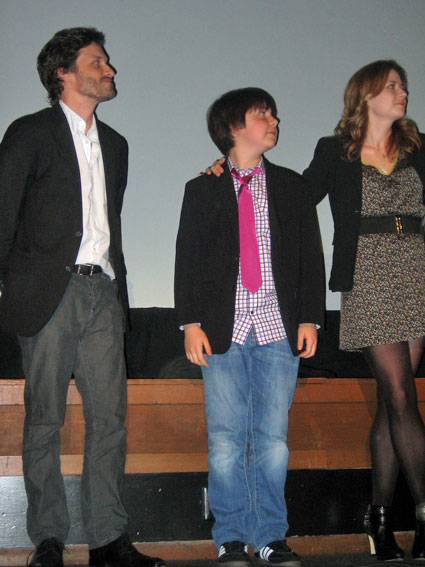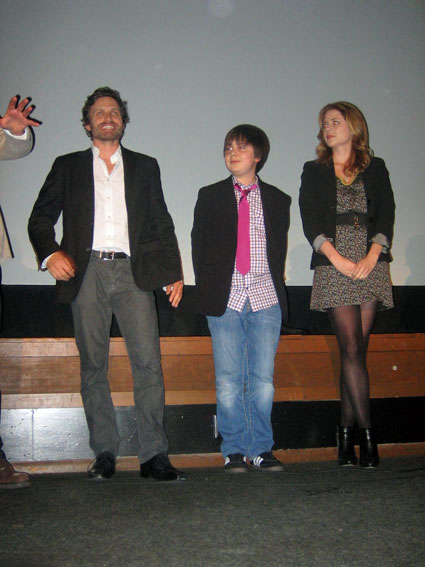 [from tanster: thanks so much to Hannah for writing up this report and sending photos!]