I was honored and thrilled to play a small role in the last episode of The Office, Finale.
Here are my notes about this surreal and once-in-a-lifetime experience!
For the full listing of my 2013 set visit content, go here.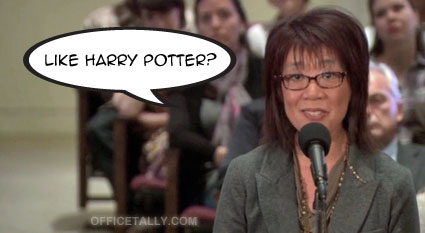 January 24, 2013: The inspiration
Like so many things that happen at OfficeTally, the original idea for this came from one of your comments!
Back in January, Eric added this comment to the Customer Loyalty post regarding the documentary crew:
"How many levels of awesome would it be if we found out that Jennie Tan was involved!!? I'd squeal like a pig in heat if that is any part of the reveal!
I thought, yeah, wouldn't that be cool, to just be shown in the background, like part of the crew?
Then I thought, there's no harm in asking, right?
February 10, 2013: the ask
I emailed The Office Executive Producer Greg Daniels with my request. Would it be possible to take part in the finale in some way?
He wrote me back immediately with the response, "Of course! I'll write you in."
Oh. My. God.
He'll "write me in"?! What does that mean?
March 7, 2013: the week before
I get an email asking for a headshot and "actor's resume." I put together the shortest resume ever. Just like Pam's. :) I am told that I will be hired as a day actor, with shared end credits.
Hired? — as in, get paid? Credits?! — this is crazy.
March 8, 2013: the week before
I get a call from Carolyn in Wardrobe, and that's the first time I hear who I'll be playing. Myself! At a cast Q&A!
Wha-what?! Because I have been at a real cast Q&A. Fiction melding with real life. I can barely process this.
March 10, 2013: the day before
I fly in to Burbank.
At around midnight, less than 10 hours before my call time, I am finally emailed the script.
Oh. My. God. I have SEVEN LINES!
I pace my hotel room frantically trying to memorize the lines. I'm kind of freaking out.
I get very little sleep that night.
March 11, 2013: the day of filming
I arrive on set before my call time of 9:30am. The location is the AT&T Building on Olive Street in Los Angeles, substituting for the Scranton Cultural Center.
Omigod, I have my own trailer!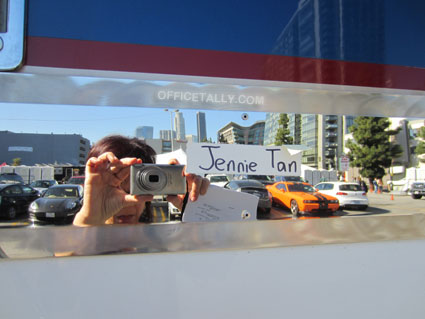 I am a dork, so I take a picture of my trailer. (Look, it's Dwight's car in the background!)
I check in with Wardrobe, who takes one look at my own clothes and says, "you look pretty cool as is!" So no wardrobe change needed, I end up wearing my own clothes for the scene.
Next up, makeup and hair. I'm like, this is so exciting!
Throughout the morning, a production assistant checks in with me and reports my whereabouts into a walkie talkie. "Jennie has arrived. Jennie is now in makeup. Jennie is walking to the set." This keeps the production running smoothly and on schedule.
Okay, finally time to shoot my scene.
First, a rehearsal. I look at the cast, and they are all still reading from their script. So I do, too. And lol, I mess up. So for me, the rehearsal didn't go so well. I start to panic.
But for whatever the reason, once the cameras start to roll on the first take, I'm calm and get through all my lines.
I do it again, second take. Then a third. No mistakes!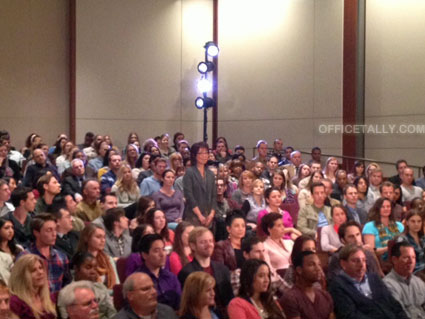 Andy Buckley ("David Wallace") takes this photo of me from where he's sitting on the stage.
And each time, John and Jenna would look directly at me as they gave their answer. It was SO SURREAL. I was playing myself but talking to Jim and Pam. I was asking the question that many of you had, but something I would never have the courage to ask in real life.
I think filming is going well but then… they call a break. People are scurrying back and forth between Greg Daniels (writer) and Ken Kwapis (director). I'm not sure what's happening.
I'm about to pass out from the stress, lol.
Then one of the writers' assistants comes to me and says, "we have a new line for you."
Omigod NO! I can't memorize new lines on the spot!
This new version has me ask my question to Pam in a more pointed way. Greg rewrote it on the spot, and I believe he wanted my question to more strongly push Pam to address the issue.
I look at the new sheet of paper that they just handed me, and I see that they rewrote some of Meredith's lines on the spot as well. Meredith's new lines appear right above mine on the page, which confuses me because Meredith doesn't say her lines before mine!
I think at this point, I start to have a panic attack. Kate Flannery calms me down, walks back up the stage, and nails her new lines. (Thanks, Kate, for talking me off the ledge!)
I somehow get through my lines as well. But every time Pam would say her lines to me, I teared up. Well, all the way up to my 'Harry Potter' line. (By the way, I've never watched or read 'Harry Potter,' so I had to pretend I knew its significance, lol. As Holly channeling Jon Lovitz would say, "acting!")
Andy Buckley emailed me in the middle of my performance, "You're doing great, Jennie!" So sweet.
John was so nice, too — he kept flashing me the thumbs up, thumbs down, thumbs sideways sign to make me laugh, as I was standing at the microphone waiting for cameras to roll. I think he knew I was a little nervous. Afterwards, he said to me, "I was asking Jenna, 'has Jennie acted before?'" Awww.
Jenna said to me afterward that she wished I could've asked real fan questions! That would have been so great.
By the end of multiple takes, I was ready to collapse from anxiety and emotion.
Once the rest of the scene was filmed, I ran up the stage to talk to everyone, and that's when the audience let out a big round of applause, this time as fans of The Office, not the documentary. :)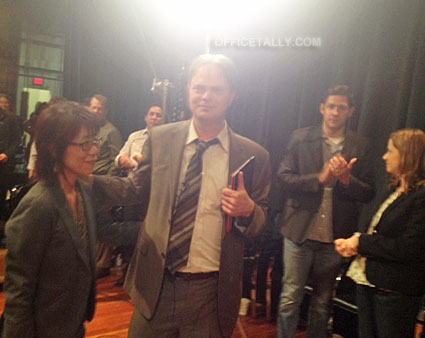 I run up to the stage as soon as the scene wrapped. Credit: Andy Buckley
Rainn grabbed my camera and said, "turn around, let me take a photo of you with the audience!"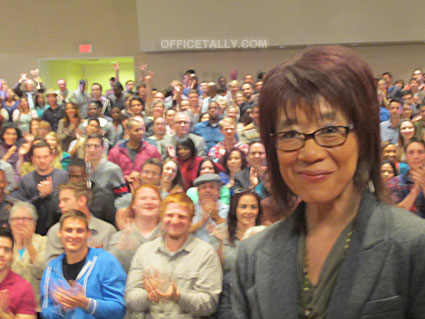 Me with a bunch of very excited Office fans! Credit: Rainn Wilson
I went up to John and Jenna and started to cry. I told them it was an honor to be in a scene with them. Especially that scene, with what Pam ends up saying.
Post-March 11
So… for the past two months, I've had to keep kind of mum on all of this. It's been hard. (That's what she said.)
At one point, I emailed the production staff and asked them, "Can I just mention on OfficeTally that I filmed a scene with Jim and Pam?"
The response I got back was, "You can say that you might be in a scene, but you can't mention who it's with."
So that's what I did.
As Grave Wedding Minister points out, even when ddker guessed pretty closely what my role would be, I showed superhuman restraint in my response:
My prediction for the finale – so from the pictures it looks like there is some sort of Q & A with them. Our very own tanster gets the mic and says that she loved the documentary so much that she created a website for it. Within 5 minutes OfficeTally crashes from the waves of people getting on the site :)

[ from tanster: lol. oh god no, please no website crashes! ;) ]
But secret secrets are no fun. So true, Elizabeth. So true.
My lines
My original lines, exactly as written by Greg Daniels, were:
Hi, Jennie Tan. I run a website devoted to your show. This is for Pam and Jim. Everybody watching could tell how much you loved each other, how you were soulmates. Which is why a lot of us had trouble understanding why Pam resisted moving to Philadelphia. Was it fear, or doubt, or...?
(later)
You mean like Harry Potter?
My lines, rewritten by Greg Daniels on the spot:
Hi, Jennie Tan. I run a website devoted to your show. This is for Pam and Jim. Your relationship means so much to people. Everybody watching could tell how much you loved each other, how you were soulmates. Pam, how could you doubt that when he moved to Philadelpha?
Other trivia about this scene
Many of the people asking questions are actual staff on the show, mainly writers! Such a sentimental finale, as Greg Daniels I think wanted to include as many of The Office staff as possible.
How did it feel to see your lives played out on TV: Brent Forrester, The Office executive producer and writer
How did you pay Jim back for leaving Athlead: Amelie Gillette, The Office writer
Jim could do anything: Allison Silverman, The Office co-executive producer and writer
What was in the teapot letter: Dan Sterling, The Office producer and writer
Does your life feel pointless: Steve Hely, The Office producer and writer
Greg Daniels' wife, Susanne Daniels, was the Q&A moderator.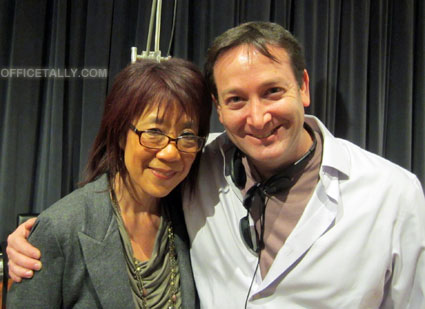 Me with The Office's director, producer, and editor, David Rogers.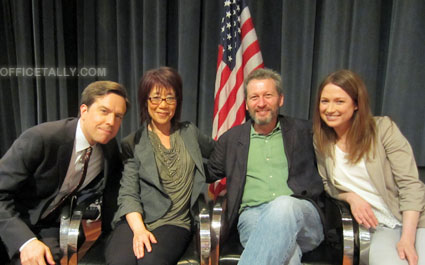 I wanted a photo with director Ken Kwapis, then Ellie Kemper pulls herself and Ed Helms into the picture and says, "let's photobomb!"
During the first few takes of the scene, the audience applauded too boisterously, and Ken had to give them the direction, "remember you're a PBS audience, not fans of the actors, but fans of the characters in the documentary."
Ken instructed the audience to 1) laugh at Kevin's orange juice joke, 2) shhh the guy who gives Andy a hard time, 3) ooh and aah over the end of Pam's speech, and 4) ooooh at the question directed at Oscar. All other times, the audience should be "engaged, but quiet."
(I realize that items 1, 2, and 4 didn't make it into the scene. There was so much good stuff shot, I'm hoping it all makes it onto the DVD!)
I could hear my heart pound during Brent's question, because I knew I was up next. As soon as I started talking, though, I looked directly at John and Jenna and the lines just poured out. Can I say for the record though, I would never ask such a pointed question at Jenna in real life! I told her that, too, afterwards.
I'm thankful to say I didn't mess up my lines once during filming. On the other hand, i have no recollection of performing any of them. I kind of blacked out, lol.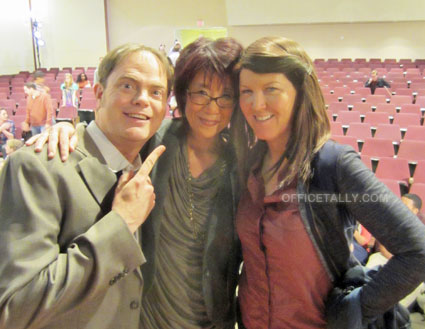 Me with Rainn Wilson and Kate Flannery. I was so shocked when I saw Meredith in non-Meredith clothes and hair!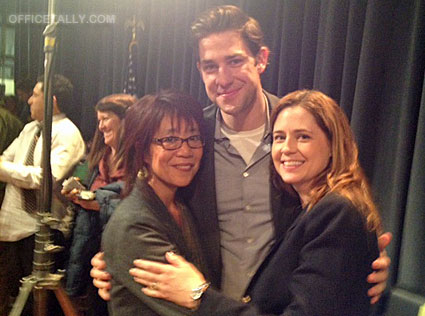 What an extraordinary honor to act opposite John Krasinski and Jenna Fischer.
Credit: Andy Buckley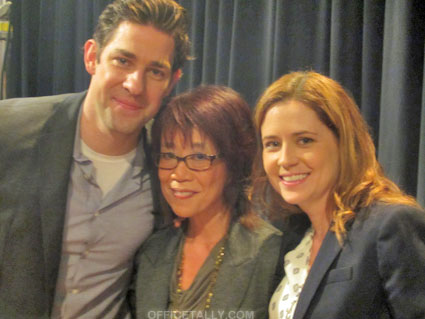 This was an experience of a lifetime. Thank you, Greg Daniels, for letting me be part of such an amazing show. I can't thank you enough.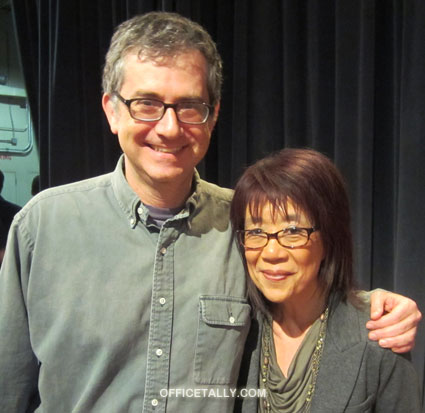 Me with The Office creator, executive producer, and Finale writer, Greg Daniels.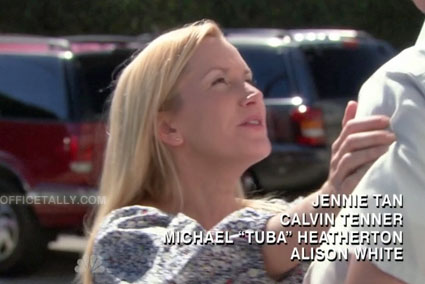 My name in the opening credits. Speechless.
My scene, woo hoo!
[Video no longer available]
Behind the scenes
Andy Buckley ("David Wallace") shot this on his iPhone while sitting on the panel. That's Director of Photography Matt Sohn filming the action. Thanks, Andy!