Jim Halpert as Three Hole Punch Jim
Three Hole Punch Jim (from Season 2's Halloween): light button-down shirt tucked into dark pants, dark tie, three black paper dots vertically placed on the right side of your shirt, belt, dark shoes.
Make sure your dots aren't too big, or else you'll look like a mutant manhole cover.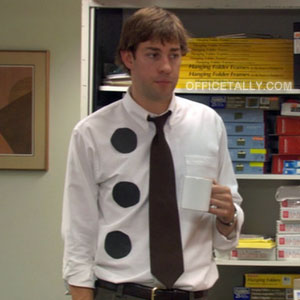 Dwight: What is that? What are you supposed to be?
Jim: I'm a three-hole punch version of Jim. 'Cause you can have me either way — Plain White Jim, or Three-Hole Punch.
Phyllis: That's great.
Jim: Oh, yeah.