Jim Halpert as Dave
Dave (from Season 5's Employee Transfer): light button-down shirt tucked into dark pants, dark tie, a "HELLO my name is" sticker with "DAVE" written on it, belt, dark shoes.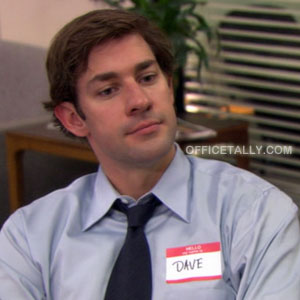 Andy: Meow. Sweet 'stume, dude. Who are you supposed to be?
Jim: Dave.
Andy: Cool.
Search on Hello my name is to print out a "HELLO my name is" badge.