September 15, 2011: original post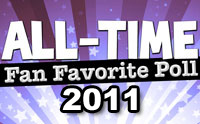 Vote in OfficeTally's All-Time Fan Favorite Poll 2011, where you pick your 20 favorite episodes of The Office from the past seven seasons!
Graphic: Matt Collins

Vote for your favorites (up to 20)
Poll runs September 15 to September 21 22, 12 noon PT.
IMPORTANT NOTE: not all episodes are listed. I can only enter 99 choices in a poll, so I omitted the bottom 40 episodes from the All-Time Fan Favorite Poll 2010 in order to accommodate all Season 7 episodes. Not a perfect system, but there you go.
Contest
To make it a little more interesting, enter a comment below explaining your choice of 20th favorite (or last favorite, if you picked less than 20), and you could win a prize!
Rules
Post a comment naming your 20th favorite episode and why.
Spelling, grammar, and punctuation count.
One entry per person.
You must provide a valid email address and live in the U.S.
Prizes
I will randomly choose three winners out of all eligible entries to win some Target goodies!
Deadline
Wednesday, September 21 22, 12 noon PT.