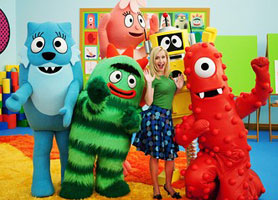 The Office's Angela Kinsey visits the Nick Jr. children's TV series Yo Gabba Gabba! this afternoon, 5pm ET. She plays a teacher who helps kids feel more comfortable with their first day of school.
Read more at the Wall Street Journal's 'Yo Gabba Gabba' Gets a Visitor from 'The Office.'
P.S. Speaking of Angela, she donated her 2008 Golden Globes gown + The Office cast signed photo to CharityBuzz — bid here!