Rainn Wilson laptop #4, Dec. 16-21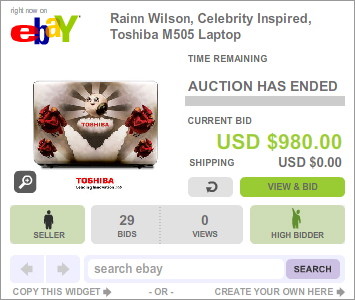 This is a Toshiba M505 laptop, decorated Soul Pancake-style with Rainn Wilson's autograph inside.
If you build this exact laptop (4GB RAM, 500GB HD, Bluetooth, upgraded DVD drive) at Toshiba.com, it prices out to over $1,000.
Proceeds benefit one of Rainn's favorite charities, The Mona Foundation.
Some photos start on the next page.
Link: bid on Rainn Wilson laptop #4 (ended Dec 21, 17:01:17 PST)