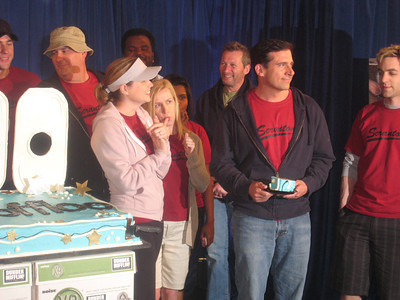 Here's your chance to win a Scranton t-shirt from The Office Season 5 finale, 'Company Picnic'!
This is the exact same shirt that was worn by the cast during the episode, shown here!
The t-shirt is size XL, and shows "Scranton" on the front, and "Company Picnic '09" on the back with the Dunder Mifflin logo.
To enter the giveaway: after the jump, you'll see a photo from an actual scene of 'Company Picnic,' and you'll be required to answer a question about the photo. There's nothing really spoilerish about the photo, but I'm putting it behind a jump in case.
Link: Enter the giveaway here! CONTEST IS NOW CLOSED.
UPDATE 5/6: sadly, the original winner didn't claim their prize in time. I have now contacted a NEW winner. The email title is "Congratulations! You've won The Office's 'Company Picnic' shirt from OfficeTally!" Check your inbox, Tallyheads!