January 19, 2013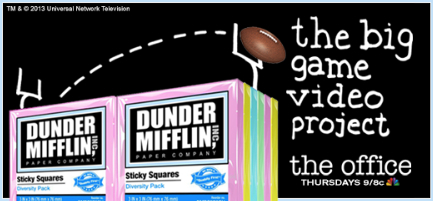 UPDATE: the video phase is in progress. Wild cards accepted.
Quill, maker of Dunder Mifflin paper products, is holding an ad contest.
The top entry will air during the Superbowl in Scranton, PA, and win $15,000!
There are two phases to this contest: the pitch and the video.
If anyone can come up with an awesome idea, it's a diehard Office fan. :)
Links: Submit your entry | Mashable article
(Please post a comment below if you submit a pitch/video and it's selected!)