Kristina's report
I arrived at about ..5:45 PM.., before anyone else. There was literally no one there except me! I quickly picked a seat at Jenna's table and then ran up to peruse the "Office" goodies Jenna donated this year.
Also, Jenna mentioned on her blog that she would be donating the necklace she wore when Pam married Jim. I learned later that Jenna would be doing a live auction of the necklace towards the end of the evening.
Lindsay arrived with her fiancé and we quickly chose our spots at the table. We had gotten word that Jenna was bringing none other than Angela tonight so we positioned ourselves so that the two of them would be in between us! I truly am the luckiest girl in the world!
Suddenly, I saw none other than Miss Jenna Fischer herself with her wonderful fiancé Lee Kirk! They were in the press area so I ran out and took a few shots just like one of those gross paparazzi people (I felt dirty taking a picture without asking her first). 
She was GORGEOUS! Her hair was up and in a loose bun. She wore a tight black cocktail dress with silver sparkles by a top designer (I'm so sorry I can't remember her name right now!) that was not even released yet. The dress was worth $550 and Jenna later auctioned it off that night! She wore beautiful red pumps and a silver necklace. She was THIN too! My goodness I wish I had that figure!
I asked if Angela was coming and she said that she couldn't, unfortunately. Her daughter had some sort of Christmas tree thing to do.
I asked her if she knew the gender of Pam's baby yet and she said the writers STILL haven't decided. I insisted that the baby HAD to be a girl! Jim is meant for girls! She laughed and said, "We'll see."
Jenna sat next to me! Unfortunately for me, as soon as we all sat down for dinner, the speeches had started, which meant not a lot of time to talk, especially for everyone else at the table who paid the extra $75 to sit with Jenna. I gave Jenna a little present. It was a cat ornament with a picture of Jenna with her award from last year's FurBall. She was so touched and gave me a hug.
While everyone was enjoying their meal, Jenna had to keep getting up to introduce the next speaker. By the time she would come back to our table, everyone else had already finished and the waiters were coming to clear the plates. I felt so bad! She had to hurry to eat her meal!
Jenna auctioned off both the dress she was wearing (I told her I hoped she had brought a change of clothes) and the famous necklace Pam wore at her wedding.
The dress, which she said would be dry cleaned and shipped to the winner sold for $500.
The necklace sold for a whopping $950!
The evening, unlike last year, ran over 40 minutes over schedule! Last year everyone was leaving by 9:30.This year, the ceremony was still going on at 10:40!
 
Everyone started coming up to her to thank her and say goodbye!  I followed her out until the very end. She thanked me for coming and said "I'll see you next year!"
Best night ever!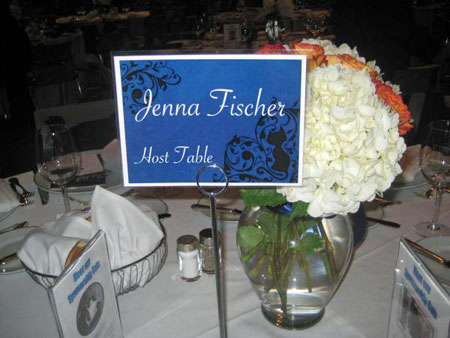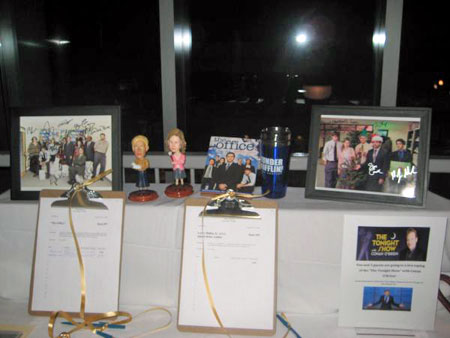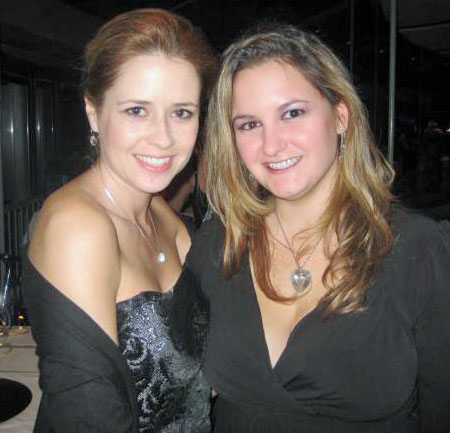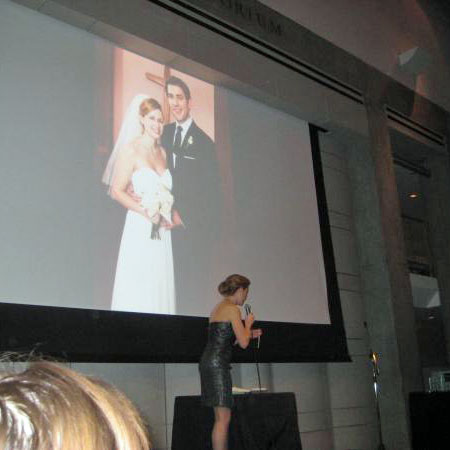 Thanks to Kristina for your report and photos!