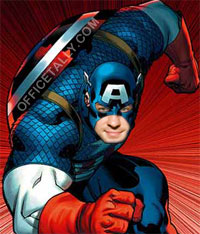 From The Hollywood Reporter:
John Krasinski as Captain America? It could happen as Marvel conducts screen tests this week in its search for the actor to play Steve Rogers, the alter ego of the title character in its "Captain America" movie.
Other names reportedly in the mix: Michael Cassidy, Patrick Flueger, Scott Porter, Wilson Bethel, and Mike Vogel.
Link: The Hollywood Reporter