How absolutely precious is this — The Office's Rainn Wilson posted this audition sign-in sheet on his Facebook page yesterday.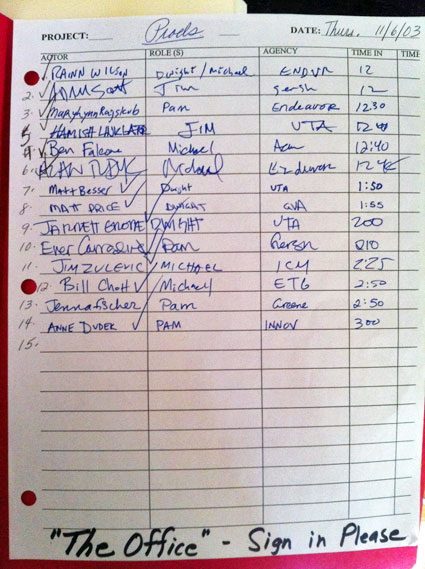 Rainn explains: "This is the original sign-in sheet for the first day of casting for The Office given to me by Allison Jones, our incredible casting agent. I was the very first person to audition for the series, 11/06/03. Notice all the amazing talent on the sheet, including the amazing #13! This is perhaps the greatest Office keepsake I have. So grateful for the best job I will ever have."
The cast hopefuls included Adam Scott ("Ben" in 'Parks and Recreation'), Mary Lynn Rajskub ("Chloe" in '24'), Ever Carradine ("Erika" in '24'), Hamish Linklater ('Matthew' in "The New Adventures of Old Christine"), Ben Falcone (Melissa McCarthy's real-life husband and her love interest in "Bridesmaids"), Alan Tudyk ("Noah" in 'Suburgatory'), Matt Besser (a founder of the Upright Citizens Brigade), Matt Price ("Evan" in The Office Season 3 episode, 'The Convention'), Jarrett Grode ("Perry" in 'Undeclared'), Bill Chott (Second City), and Ann Dudek ("Amber" in 'House').
And, of course, Rainn Wilson and Jenna Fischer. :)