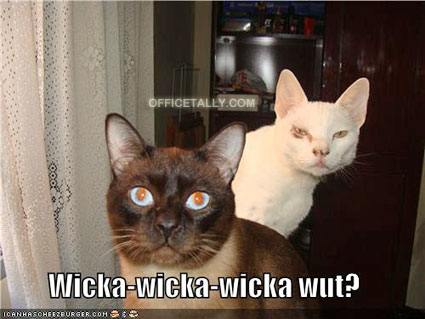 Inspired by Michael and Holly's rap.
Thanks to your interest, I'm happy to bring back this oldie but goodie…
Presenting the OfficeTally Lolcat Contest 2010: create a lolcat inspired by The Office for a chance to win The Office Monopoly game!
What's a lolcat?
For this contest, a lolcat is a photo of any animal paired to a quote from The Office.
The quote is converted to lolspeak, a unique version of bad spelling and grammar.
For inspiration, check out OfficeTally's lolcat archive.
How to submit an entry
Pick a quote from any Season 6 or 7 episode only of The Office.
Check out OfficeQuotes.net for a comprehensive list of quotes.
Convert the quote to lolspeak — here's a guide on how to speak lolcat as well as a handy lolcat translator.
Create your lolcat with the Lolcat Builder and save it. You can create an account so that you can easily go back to your lolcats later, but you don't need to create an account to save your lolcat.
Add a comment to this post with a link to your lolcat.
Include a valid email address.
One entry per person.
U.S. only, please.
The rules, the prizes, and schedule are all subject to change without notice.
How to win
I'll create a poll with my favorite entries.
You'll vote for your favorite entry.
The top three vote-getters will each receive The Office Monopoly game, courtesy of USApoly!
Deadline
Submit your Office lolcat by Friday, November 19, 11pm PT. The poll and voting for prizewinners will follow!
Visit our sponsor
This contest is generously sponsored by USAopoly, makers of The Office Monopoly game. Check out exclusive photos of the game and follow USAopoly on Twitter!