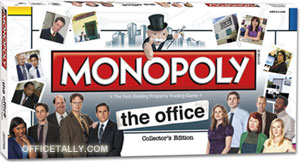 The Office Monopoly Game combines the classic deal making game with popular items and locations from
The Office!
Buy at Amazon:
The Office Monopoly
Enter The Office Lolcat Contest for a chance to win the game!
Here are more details and exclusive images.
Game Description
This new take on the classic MONOPOLY® game transforms the traditional game board properties into popular locations in "The Office" such as Dunder Mifflin Scranton or Michael's Condo. In addition, players might land on "RUDIT-DIT-D'DOO!" (Community Chest), "That's what she said!" (Chance), Donation to Rabies Fun Run (Luxury Tax), or Buy a Hug from Phyllis at Crime Aid Auction (Income Tax).
Photos: Game Board | Game Board Squares | Tokens
Follow The Office Monopoly and The Office Clue games on Twitter at @PlayTheOffice!