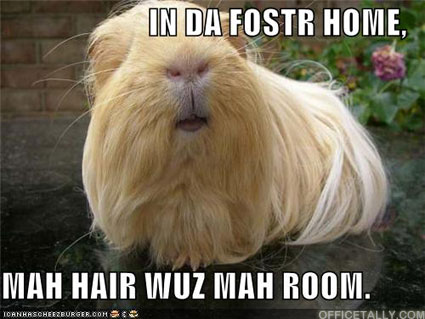 Kaye's winning entry from last year, inspired by the episode Secretary's Day.
Inspired by a tweet I received from @hesrightbehindu, I'm happy to bring back the OfficeTally Lolcat Contest 2011: create a lolcat inspired by The Office for a chance to win The Office 2012 Calendar!
UPDATES: first, the deadline to submit an entry has been extended to tomorrow, December 3, 11pm PT. Second, Hallmark is generously providing the Michael Scott Keepsake Ornament to the first and second place winners! Get those entries in k?
What's a lolcat?
For this contest, a lolcat is a photo of any animal paired with a quote from The Office.
The quote is converted to lolspeak, a unique version of bad spelling and grammar.
For inspiration, check out OfficeTally's lolcat archive.
How to submit an entry
Pick a quote from any Season 8 episode only of The Office.
Check out OfficeTally's Season 8 archive for quote ideas.
Convert the quote to lolspeak — here's a guide on how to speak lolcat as well as a handy lolcat translator.
Create your lolcat with the Lolcat Builder and save it.
Add a comment to this post with a link to your lolcat.
Include a valid email address.
Multiple entries per person are allowed.
U.S. only, please.
The rules, the prizes, and schedule are all subject to change without notice.
How to win
I'll create a poll with my favorite entries.
You'll vote for your favorite entry.
The top ten vote-getters will each receive one of The Office 2012 Calendars, courtesy of Trends International and Andrews McMeel! The first and second place winners will receive a calendar AND the Michael Scott Keepsake Ornament, courtesy of Hallmark!
Deadline
Submit your Office lolcat by Saturday, December 3, 11pm PT. The poll and voting for prizewinners will follow!