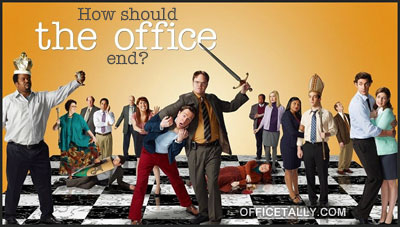 I teared up reading Tallyhead MuckMallard's idea for how The Office could end:
I had a crazy idea for the final scene of the series: a pre-teen Cece and Philip are watching the "documentary" alongside a gleeful Uncle Michael & Auntie Holly. Michael says something to the effect of, "and that is how your dad met your mother". There's a knock at the door, and Holly answers, and in come a beaming Jim & Pam. They all exchange pleasantries, and Jim & Pam thank Michael & Holly for watching the kids. Michael asks, "So how was the art exhibit?" to which Jim simply says, "Beesly knocked it out of the park." Then Jim & Pam share one of their patented wordless smiles. End credits
How do you think The Office should end?