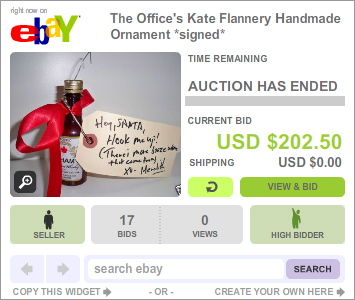 Kate Flannery is auctioning off a hilarious holiday ornament she made herself on The Office set, and will include a personalized autograph! Auction proceeds will benefit Jenna Fischer's charity, Kitten Rescue.
Link: Bid on Kate's handmade holiday ornament (ended Dec 08, 12:28:30 PST)
What Jenna says about the charity: "The funds raised with the sale of this ornament will go to Kitten Rescue — a no-kill animal rescue organization that I've worked with for over 8 years. I've collected other Office items which will be available for auction at the Kitten Rescue Annual Fundraiser, which I'm hosting on December 5th in Los Angeles. For tickets, go to kittenrescue.org." (You can also read more about the event here at OfficeTally.)
What Kate says about the ornament: "The ornament I made was made from a wardrobe tag and a booze bottle that was put in my fake desk during the BUSINESS TRIP episode — the booze bottle is from the airplane scene where Michael, Oscar and Andy go to Canada. The note pinned to it says Hey Santa, Hook me up! (There's more booze where that came from.) xo – Meredith. You know when little kids leave Santa some cookies and milk and a note on Christmas Eve? This is Meredith's version. It's all a bribe. Cookies or booze. Right? And besides, Santa gets cold on that sled. xo, Kate Flannery aka Meredith" Kate will include a personalized autograph on the ornament for whoever wins.
Own this cute one-of-a-kind Office souvenir while supporting Kitten Rescue!