Original post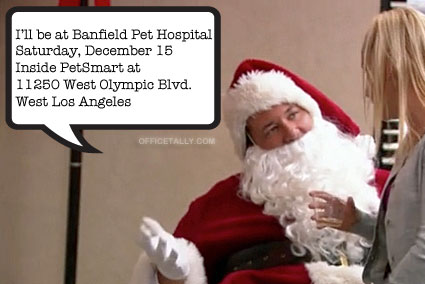 From press release:
Banfield Pet Hospital is hosting an open audition for one lucky pet to become "Santa's Next Reindeer" as celebrity guest, Brian Baumgartner, also known as "Kevin" from the hit television show "The Office," will star as Santa Claus to judge the competition.
Pet owners are invited to bring their pets to the new Banfield Pet Hospital in West Los Angeles, located inside PetSmart at 11250 West Olympic Blvd., on Saturday, December 15, from 11 a.m. to noon, for a chance to become the star of Santa's sleigh.
"Let's be honest… being one of Santa's reindeer might be the most important job in the world. So I will be checking my list of criteria, twice, to determine which pet can best guide the sleigh," said Baumgartner.