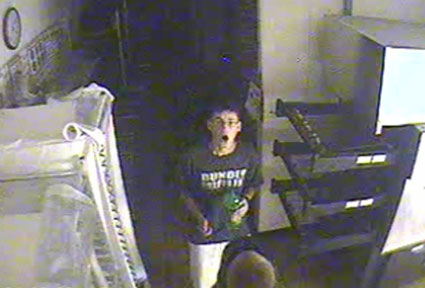 From Richmond Virginia's WTVR.com:
HENRICO COUNTY — Henrico Police are looking for a person seen wearing a green "Dunder Mifflin" shirt in surveillance video shot inside a West End Little Caesar's.

Dunder Mifflin is the fictitious paper business used as a setting for the NBC sitcom "The Office."

Police say early on the morning of July 25, 2010, four people got inside the Little Caesar's located at 9730 Gayton Road in the Gayton Crossing Shopping Center.

Police say the suspects stole food, vandalized the store and tried to pry open the cash registers.

Three of the four subjects had their faces covered.

One person did not.

Anyone with information regarding this crime is asked to call Henrico County Division of Police at 804-501-5000 or Crime Stoppers at 804-780-1000.
His expression says it all.