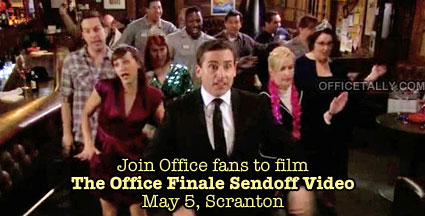 APRIL 11 UPDATE FROM ORGANIZERS: "In light of the events now happening on May 4, we have decided to cancel our tribute video originally scheduled for May 5."
In honor of The Office, TV station WBRE is organizing a lip dub extravaganza to be filmed on the streets of Scranton on Sunday, May 5.
Not only do they need Office superfans to perform in front of the camera, they would also like to feature an original send-off song! (I'm talking to you, creators of Pam Pong, The Office Tribute Song, and Ryan Started The Fire.)
Organizers tell OfficeTally "The video will be posted to YouTube during the final episode, and will likely air on both the NBC and CBS affiliates here in town at about 7:55p on the finale night. It will also be covered locally on Eyewitness News."
Sign up/more info: The Office Finale Sendoff
'Cuz there ain't no party like a Scranton party 'cuz a Scranton party don't stop!