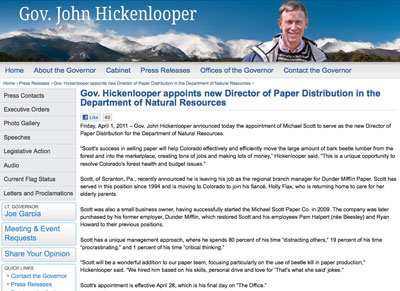 Colorado Governor John Hickenlooper must be a fan of The Office; check out the press release posted today on his official site, which reads in part:
Gov. John Hickenlooper announced today the appointment of Michael Scott to serve as the new Director of Paper Distribution for the Department of Natural Resources.

Scott, of Scranton, Pa., recently announced he is leaving his job as the regional branch manager for Dunder Mifflin Paper. Scott has served in this position since 1994 and is moving to Colorado to join his fiancé, Holly Flax, who is returning home to care for her elderly parents.

Scott has a unique management approach, where he spends 80 percent of his time "distracting others," 19 percent of his time "procrastinating," and 1 percent of his time "critical thinking."
Tipster: Scott
Read the full statement here.