July 16, 2010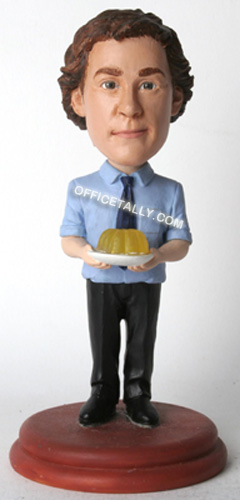 The NBC Store states that this is a picture of Jim's full body master sculpt, which is used as the mold for the rest of production.
The Jim bobblehead is currently scheduled for a holiday release.
Thanks for the photo, NBC Store!
January 11, 2010
The Kelly bobblehead is planned for a spring 2010 release; no release date set for the Jim bobblehead yet.
July 30, 2009
The Angela bobblehead and Oscar bobblehead are now available for purchase! (On sale for $19 $15 until August 6.)
Tipster: k-dub
July 14, 2009
The NBC Store has had a small delay in the release of the bobbleheads (not surprising considering how long this process has taken!). They're hopeful that the bobbleheads will go on sale at the end of this month.
May 30, 2009
After more than two years in the making, it looks like we'll finally be seeing The Office cast bobbleheads soon at the NBC Store — yay!
Here's what I've been told:
The first two bobbleheads will be in stock in early July – Angela and Oscar. Those two will most likely be available for sale in early to mid-June.

We'll be releasing one or two a month thereafter. We currently have seven already approved, and the rest should be coming in over the next few weeks/months.

In an effort to keep these exclusive and for the real fans, almost all of the new bobbleheads will be limited edition, limited to a production run of 3,000 units. Just Jim, Pam, and Andy will have a larger production run.

To fans of the show who have purchased a Dwight or Michael bobblehead in the past, we are going to send a private/hidden link to purchase the new bobbleheads, a day or so before each bobblehead goes live!
Link: Follow the NBC Store at Twitter to see more photos!