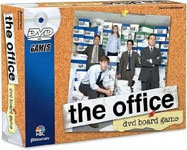 The Office DVD Board Game combines video on DVD from America's funniest television sitcom NBC's "The Office" with a companion game board allowing fans to interact with their favorite characters and put their show knowledge to the test.
Link: The Office DVD Board Game
Here are more details, images/video, and fan reports.
The Office DVD Board Game
Players go head-to-head answering trivia questions based on video clips, images and facts from "The Office" using their DVD remote control and moving around the game board. Trivia Spaces test players' knowledge. Challenge spaces let players collect other players' Schrute bucks. Clerical spaces test players' speed, skill and resourcefulness. Michael Cards can help or hinder their path. The first player to collect $1.00 in Schrute bucks wins. Game play is different every time. Narrated by Paul Lieberstein ("Toby"). For 2-4 adult players. Suggested retail price: $30.
Links: