UPDATE: I was forwarded this letter from fan tour organizers in August: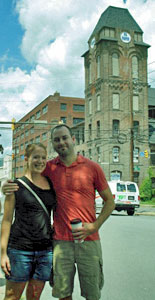 Dear Tim,
I just wanted to drop a note and let you know that Tricia and I had a terrific time during the tour. It was exactly what we expected, and we couldn't have asked for a more knowledgeable and entertaining tour guide. Please pass our regards on to the group (Andrea especially) — you all made it a terrific experience for us.
As a side note — I proposed to Tricia at a gas station just outside of Scranton on Sunday morning (ala Jim and Pam). She had no idea it was coming, and I think we might make an annual trek back to Scranton to celebrate. Feel free to pass this on to whomever and thanks again.
Regards,
Troy and Tricia
Awwwww. Thanks for sharing your story, Troy and Tricia! Perhaps you'll consider a Lake Scranton venue or maybe an Office-themed wedding? :)