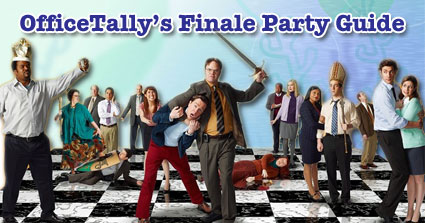 While you may not feel much like celebrating the end of The Office on May 16, you might as well go all in with the menu, right?
Inspired by Pam's comment, here are food ideas for your Office finale party!
Savory Food
McDonald's filet-o-fish sandwiches (Hot Girl)
Ham and cheese sandwiches (The Secret)
Tuna fish sandwiches (Gay Witch Hunt)
Grilled cheese sandwiches (The Client)
Caprese salad (Frame Toby)
Chicken pot pie (Company Picnic)
C-shaped bagels (New Boss)
Osso bucco (Dinner Party)
Beet salad (Dinner Party)
Hot dogs (Beach Games)
Baby carrots (Murder)
Cup o' Noodles (Email Surveillance)
Chili's Awesome Blossom (The Client)
Chili's babyback ribs (The Client)
Chili (Casual Friday)
Hooter's chicken breast, hold the chicken (The Secret)
Fettucine alfredo (Fun Run)
Cheesy pitas (The Fire)
Bologna, tomato, and ketchup subs (Michael's Birthday)
Bacon grilled on a George Foreman grill
Swanson chimichangas (The Return)
Potato salad (Cocktails)
Samosas (Diwali)
Cheese balls (Michael Scott Paper Company)
Soft pretzels (Initiation)
Pigs in a blanket (Viewing Party)
Make your own pizza (Viewing Party)
Lasagna (Secret Santa)
French toast (Dream Team)
Square pancakes (Michael Scott Paper Company)
Meatball parm subs (Heavy Competition)
French Onion Sun Chips (The Fight)
Pizza (Launch Party)
Sushi (Launch Party)
Sweet Food
Ice cream sandwiches (Health Care)
Donuts (Michael's Birthday)
"Fudgie the Whale" ice cream cake (Survivor Man)
Peach pie (Survivor Man)
Chocolate pudding cups (The Injury)
Tiramisu (The Surplus)
M&Ms (Office Olympics)
Double fudge brownies (A Benihana Christmas)
Mixed berry yogurt (Pilot)
Kit Kat (Local Ad)
Jell-O (Pilot)
Jellybeans (receptionist's desk)
Baklava (Weight Loss)
Mint chocolate chip ice cream cake (The Alliance)
Soft pretzels (Initiation)
Whatchamacallit candy bars (Business School)
Pay Day candy bars (Business School)
100 Grand candy bars (Business School)
Drinks
Grape soda (The Secret)
Peach iced tea (The Secret)
Orange vod-juice-kas (Moroccan Christmas)
Scotch with Splenda (Two Weeks)
Nogasakes (A Benihana Christmas)
Lemoñadé (The Return)
Kool-Aid (Local Ad)
Coke in cans (Drug Testing)
Vodka (Christmas Party)
Espresso drinks (Cafe Disco)
Decorations
Brown, black and grey balloons, only partially filled, and a sign saying "It is the finale."
Activities
Flonkerton (Office Olympics)
Drinking games: drink whenever (1) someone says "that's what she said"), (2) a character looks into the camera
Play "Deserted Island"
Play "Who would you do"
Play "Hilary Swank: hot or not"
Guess how many jellybeans in the jar
Charades (Dinner Party)
Sumo suit wrestling (Beach Games)
Call of Duty
Dunder Ball
What's missing? Post a comment!
And don't forget to check out OfficeTally's party archive for more ideas…