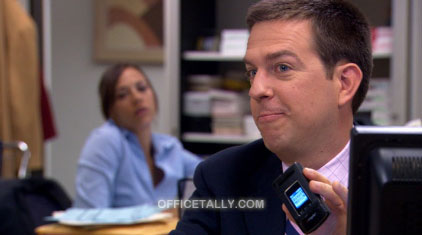 In The Office Season 3 episode The Return, Andy creates an a capella version of the song Rockin' Robin to use as his ringtone.
Andy calls himself and puts the call on speakerphone.
Andy's cell phone: "He rocks in the treetop, all day long, hoppin' and a-bobbin' and a-singin' the song. All the little birds on… "
Jim: Is that you singing?
Andy: All four parts. Recorded it on my computer.
Jim: Wow.
Andy: Took me forever.
Jim: Nice job.
Andy: Thank you muchly.
Andy's cell phone: "Oh rockin' robin, well you really gonna rock tonight. Every little swallow… "
Jim: You gonna answer it?
Andy: I called it myself. Just thought you'd get a kick out of the new ring.
Jim: Yikes.
Free downloads
To download, right-click the link, and choose "Save As" or "Save Link As."
Note: this clip is a special compilation courtesy of What's the Scuttlebutt? — "This is the best I could do mixing up pieces of the ringtone from various scenes into a song that made some kind of sense."