A few little fun items: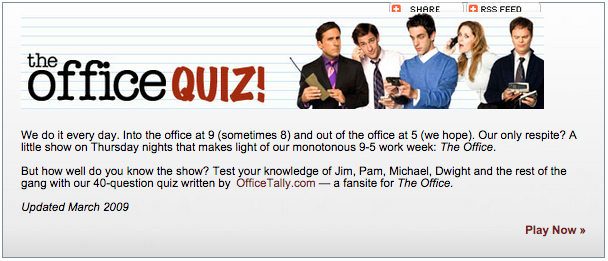 Link: The Office Trivia Quiz
In case you missed it the first time, I gave PARADE Magazine some updated questions for the quiz that I helped them with last year. But I know it's impossible to stump Tallyheads, am I right?
The Office Mini Putt Golf Game
This is a game for the iPhone and iPod Touch, and costs $1.99. I have not played it myself, so I'm interested to hear your review!
The Office Limited Edition Mouse Giveaway
John, former prop assistant for 'The Office,' wants his mouse to go to a good home, a real Office fan, and introduce everyone to his wife's great new party site! Giveaway contest ends May 1st.
More from John:
This rare "The Office" TV show computer mouse was a gift given to the cast & crew after winning the Emmy for "Outstanding TV Comedy Series" in 2006.

"The Office" Mouse Description:

"The Office" computer mouse appears to be made out of a clear acrylic. A liquid-encased compartment contains floating shapes with the character faces and names of: Michael, Dwight, Jim, Pam, and Ryan.
Computer mouse has a right and left click button and a roller button between them.
The middle of the mouse sports "The Office" logo, loud and proud!
Never used and in mint condition with the wrapper still on the cord.
"The Office" mouse comes in an awesome storage box.