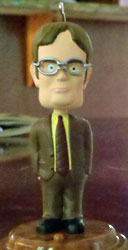 The 2010 Hallmark Keepsake Ornament collection includes a Talking Dwight Bobblehead ornament, and it's available in Hallmark Gold Crown stores now!
Head "bobs" when touched. Battery operated. 4-1/2″ tall.
Listen to sound clips here.
Related link:
The Office Hallmark Keepsake Ornament 2009
Tipsters: jmj, Meggan
Giveaway
Congratulations to Ryan (#24) — you have won the Dwight Talking Bobblehead ornament!
Original contest details posted on the next page.