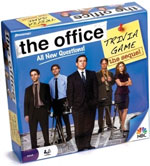 A new board game is here —
The Office Trivia Game: The Sequel!
This is just like the original, but incorporates Seasons 4-6 with updated questions and characters.
It's priced at $16.99 and ships on September 13 from the NBC Store.
Link: The Office Trivial Game: The Sequel
Here is Tallyhead Colleen's review of the game!
Colleen's review of The Office Trivia Game: The Sequel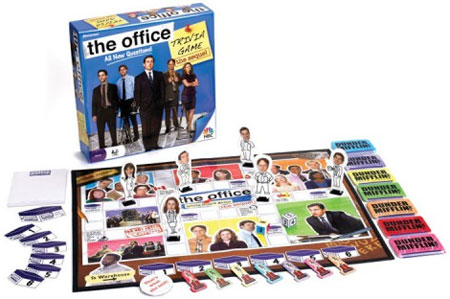 The Office Trivia Game The Sequel is just as exciting as the original game! It has the same basic concept. You move around the board and into different rooms answering different questions about The Office and its cast of characters.
When you answer a question correctly, you collect that color Dundie. The questions are all from Seasons 4, 5, and 6.
The character pieces are a little more involved this time; Stanley is sitting in his chair, Creed holds a guitar, and Erin, Darryl, and Andy all have a character piece this time around!
There are some different spots along the board, for example Dancing in Cafe Disco. Switch places with another player, and Corporate sends you to Winnipeg to roll again.
They also have a Go to the Warehouse spot on the board. You then collect reams of paper by rolling a die. Whoever collects three reams of paper first gets control of the large paper box. You must have the large box of paper and one of each color Dundie to win the game.
We had a lot of fun playing it! It was really nice to have some new questions because, truth be told, my cousin Mary and I have pretty much memorized all the old trivia questions. Definitely a good buy for any Tallyhead!
Colleen
Here are Colleen's photos of the game.