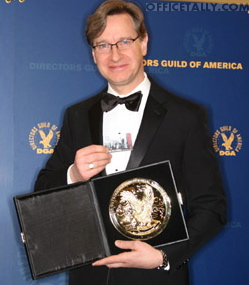 The Office's Paul Feig has won an award for Outstanding Directorial Achievement in a Comedy Series by the Directors Guild of America, for his work on 'Dinner Party.'
"We're in a real golden age of TV comedy, and I'm just happy to be part of it," Feig said backstage.
Congratulations, Paul!
And kudos to his team Robert Rothbard, Kelly Cantley, Jennie O'Keefe, Jasmine Alhambra, and Alicia Cho! YAY OFFICE!
Link: `The Office,' `Waltz With Bashir' earn DGA honors
Tipster: Matt