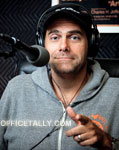 Would you like a chance to talk to The Office's Andy Buckley?
Maybe ask him what's going on with our favorite CFO David Wallace? Or if the Suck It is at Target yet? :)
He's hanging out at Hungover Radio, a Sunday morning Internet radio show hosted by his buddy Marcus Edwardes. "Great music, interviews, games, general silliness and insipidity are the order of the day." (NSFW for explicit content)
HR streams live this morning at 10am PST, and Andy will be in the sidekick chair!
Info: Hungover Radio | Call in: 424-230-7701