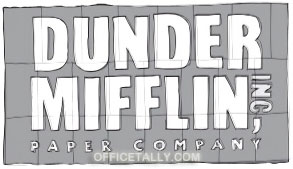 Here is the copy from the ad that Michael Scott produces in The Office Season 4 episode Local Ad.
MICHAEL:
It all starts with an idea.
But you can never tell where an idea will end up.
Because ideas spread.
They change, grow.
They connect us with the world.
(Kelly unfolds a sheet of paper that says "I LOVE YOU")
And in a fast-moving world,
Where good news moves at the speed of time,
And bad news isn't always what it seems.
(Dwight hands Phyllis a piece of paper that says "YOU HAVE A SON, AND IT'S ME.")
Because when push comes to shove,
(Stanley reads a sheet of paper that says "Turn your life around. Now hiring at Dunder Mifflin")
We all deserve a second chance
To score.
(Michael attaches a piece of paper to the wall that says "WORLD'S MOST CREATIVE BOSS")
Dunder Mifflin. Limitless paper in a paperless world.