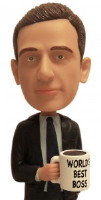 The Michael Scott Bobblehead is back, new and improved!
(And non-talking.)
The first shipment will be in stores this week, but the NBC Store is giving early access exclusively to OfficeTally readers!
(Doesn't it look more like Michael than the old bobblehead?)
P.S. You can buy the new Michael bobblehead as part of the "Buy 2 bobbleheads, get Dwight Schrute FREE!" promo still going on.