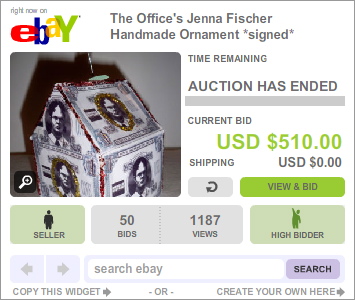 Jenna Fischer is auctioning off a holiday ornament she made herself on The Office set, and will include a personalized autograph!
Link: Bid on Jenna's handmade holiday ornament (ended)
Here's what Jenna says:
About the charity: "The funds raised with the sale of this ornament will go to Kitten Rescue — a no-kill animal rescue organization that I've worked with for over 8 years. I've collected other Office items which will be available for auction at the Kitten Rescue Annual Fundraiser, which I'm hosting on December 5th in Los Angeles. For tickets, go to kittenrescue.org." (You can also read more about the event here at OfficeTally.)
About the ornament: "Last year, the Office cast and crew were given the task of making homemade ornaments for our Office Christmas Tree. We had to use things found on set. I found some Schrute Bucks and made a little house with glitter, glue, and a paper clip as a hanger. It is very fragile but so cute! And I will add a personalized autograph on the ornament for whoever wins.Thanks for bidding!"
Jenna's MySpace blog: Jenna blogs about the auction here.
Here's your chance to bid on a special one-of-a-kind Office souvenir while supporting a great cause! I call that a nifty gifty. :)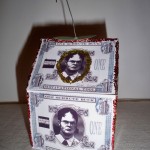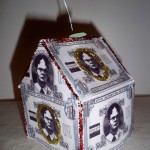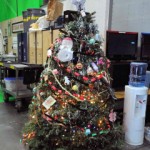 Click each thumbnail to view a larger photo. (Photo credit: Jenna and Kim!)