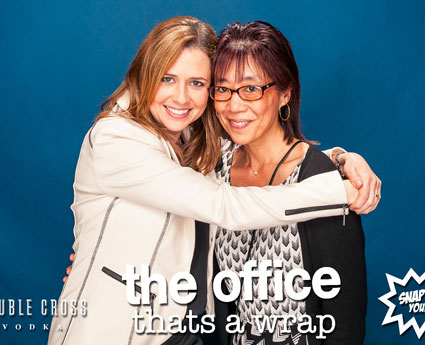 Last but not least, Jenna Fischer ("Pam Halpert").
This photo was taken toward the end of the night. Jenna walked me over to the "do-it-yourself photo booth," and said, "C'mon, Jennie, let's take a picture." I love her.
My biggest fan dork moment of the evening came when I introduced myself to Jenna's husband, Lee, by saying, "I know you! You're the lactation expert!" I'm smooth, right? :)
Well, that's all for now!
I've got more stories and photos to share. Some in the next few weeks, but most of it after the finale airs.
Thanks for reading!
Jennie (aka tanster)
P.S. I've always wanted to answer the question, "Who are you wearing?" My very cute dress is by Rag & Bone, Gayatri.
P.P.S. I didn't get to take photos with everyone, but shout-outs to Dave, Justin S, Jason K, Creed, Brian B, Brian W, Claire, Owen, Kim, Rainn, Bobby Ray, LaVerne, Zak, Chuck, Greg, Randy C, Sarah, Jackie, Ben, Ken, Jake, Clark, Red, Chris, Shannon, and everyone else that I got to chat with! Loved seeing you all. :)