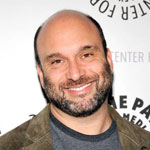 I was greatly saddened to hear that Lester Lewis died this week.
Lester was a writer and producer on The Office during its early seasons, and penned Season 4's The Deposition and Season 5's Customer Survey. Lester was kind enough to do a Customer Survey Q&A with OfficeTally.
The most lively exchange of emails I had with Lester revolved around the song Boy Hangover, which he wrote for The Office Season 5 episode, Cafe Disco. He was absolutely delighted over the fan reaction to the song!
Rest in peace, Lester. xo