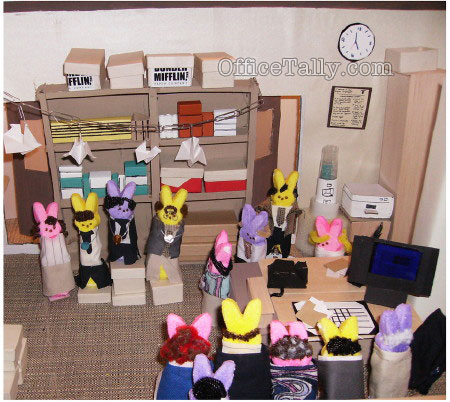 Creator
sorano916
Notes
Episode 2.03: Office Olympics
Scene: Closing Ceremonies
Notes:
1) All the characters are wearing clothings that are as accurate as possible to what they wore in the episode. Due to the angle of the photo, I couldn't include Devon or Marjorie who would have been hidden by the beam.
2) The computer screen is actually made of a frame from 3D-glasses with the Dunder-Mifflin screen behind it, so it only shows when the camera flash gets it.
3) The doves are actual origami doves and the walls are actually "wallpapered" with scrapbook paper.
4) They no longer have yogurt lids are gold and blue so those medals were made from a Twix wrapper and a bag of Flipz chocolate-covered pretzels.
5) Everything took approx. 72 hours (not straight, of course), 40 hot glue sticks, about three yards of fabric (10 different kinds), and numerous amounts of cardboard, paper, & basswood.