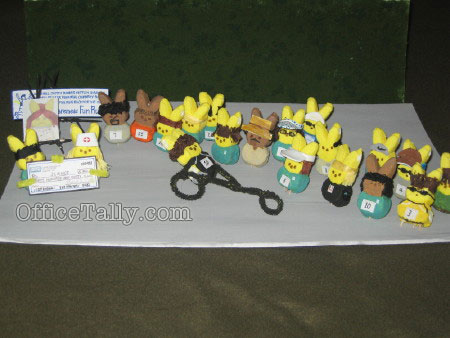 Creator
Cat
Notes
My entry is from the season 4 episode, "Fun Run."
This particular scene is when Michael was handing out the giant check to Elizabeth the Stripper.
This was fun to do although it took awhile to finish.
-The photo behind Michael and Elizabeth is Meredith as "the face of rabies."
-The one in front is Billy Merchant (#16) in his wheelchair (made out of fuzzy wires).
-The characters' accessories (hats, sun visors) were pretty interesting and hard to make.
-I tried my best to re-create the characters' hairstyles. Hopefully you guys could recognize each of them.
-Sorry if you could see the toothpicks underneath some of the peeps. They just won't stick and some are breaking down.