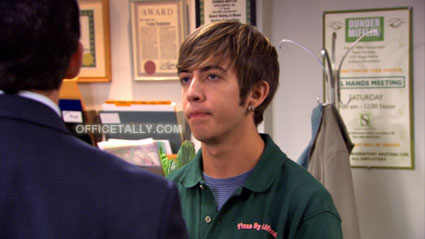 Character Name
Pizza delivery guy
Played by
Kevin McHale
Role
When Michael gets into a dispute with the Pizza By Alfredo delivery guy over the cost of the pizza order, Michael takes him hostage and locks him in the conference room.
Episode appearances
Trivia
In The Office Season 4 episode Launch Party, Kevin McHale plays the pizza delivery boy. He would later join the FOX show Glee.
In The Office Season 7 episode Viewing Party, Michael states that "the invalid" is his favorite Glee character. He is referring to a character named "Artie," who is played by Kevin McHale!
Here's The Office Glee mashup.